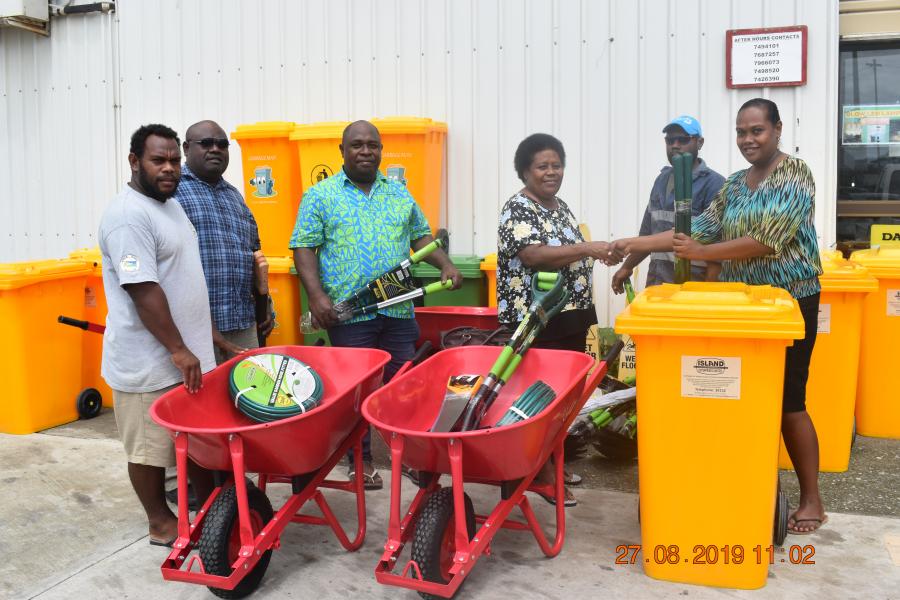 Barana Community in north-west Guadalcanal Province and Hadja Community in Makira Ulawa Province is now equip with some relevant tools and materials to deal with waste in their respective communities. This was made possible following the delivery of tools to Barana Community yesterday and the handing over of the materials and tools to Hadja Community for waste management two weeks ago.
The Barana Community is located within the Barana Community Heritage & Nature Park. Like most communities, waste management is a challenge affecting this community's environment and well-being. With these new tools and equipments, it is hoped that it will support the community to take the initiative in dealing with waste issues, clean up their community and promote Barana Community Heritage & Nature Park to visitors.
The spokesperson of the Barana Community acknowledged the Government through the Ministry and for assisting the community with the tools. He remarked, "I believe that these material will be a part of the required equipments to support the cleanup and maintenance of the Park including to be utilized by community, school and church in their cleanup activities. Thank you to the Ministry of Environment Climate Change Disaster Management & Meteorology for the tools and request your continuous support to the community. I will discuss with the community executive to ensure that we look after the tools and that it is properly and sustainably utilized into the near future.
The other recipient community that also received materials and tools from the Ministry of Environment Climate Change Disaster Management & Meteorology last week is Hadja Community. Hadja Community is one of the two communities on Ulawa, Makira Ulawa Province that have benefited from this assistance. Speaking on behalf of the Hadja Community Committee, Ruby Titiulu acknowledged the National Government through the responsible Ministry of Environment Climate Change Disaster Management & Meteorology for recognizing the objective of the committee to clean their village with the support of the equipments which they previously were not able to do so. Now that these materials are here, they will utilize their equipments whenever there is a village clean-up day and will look after these tools. The community is happy and are now ready to work in the community which they aim will be a model for other villages to organize themselves and also clean their environment.
This is part of the Ministry's work plan to promote and expand proper waste management and awareness to all the communities around the country. The Ministry will continue to work closely with these communities and to reach out to the other communities as well. The onus is now of the recipient communities' to take care and look after these vital materials.
Source: Environment and Conservation Division/ http://www.mecdm.gov.sb/news/165-communities-get-support-for-waste-mana…